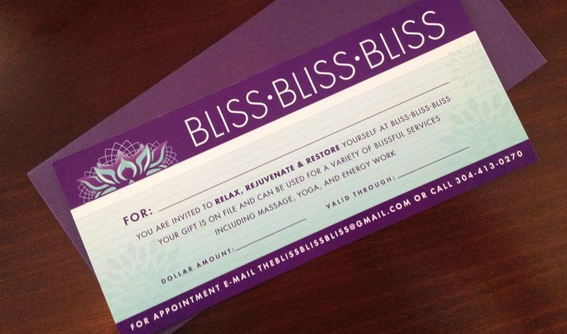 The Gift Of Bliss
So many ways to create a Bliss Gift!
Did you know our gift certificates can be purchased in any amount?
Did you also know that they never, ever expire! Right! Never! This is an extra perk at Bliss.
Here is the other thing that is really special at Bliss. Attention To You! We love what we do and we genuinely want you to enjoy your time at Bliss. Each of us is highly trained and dedicated in our field of expertise. Yoga, Massage, Energy Work, Ayurveda, Coaching and yes we even have Facials and Belly Dancing.
I am always surprised when I come to bliss and leave with more than I expected. When I need help, relief and TLC Bliss is the place I would go to get the treatments I need. – Bliss Client

Buy a gift certificate in ANY amount. We know the recipient will be able to use it in ALL the ways!
Essential Oil Membership: $35
#BlissShop: $1-$100
Bliss Yoga: $15-$200
Bliss Workshops: $25-$50
Facials: $45-$140
Bodywork (Massage, Reiki, Polarity) Gifts: $80-$130
Bliss 6X Belly Dance Classes: $90
Coaching: $105
Essential oil Membership With Oils: $150-$2650
Bliss 6X Bodywork Membership: 6 Months paid in full is $390
Ayurvedic Consultation Package $395
BlissBody Membership (6X plus 4X Yoga): 6 Months paid in full is $648
[button link="http://www.theblissblissbliss.com/gift-certificates/" size="medium" align="center"] – Purchase Your Bliss Gift (any dollar amount) – [/button]
[button link="http://www.theblissblissbliss.com/testimonials/" size="medium" align="center"] – Feast Your Eyes on What Clients Say About Us – [/button]