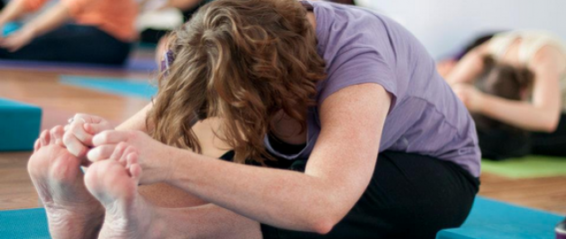 People come to a Yoga class for many reasons, some like the exercise, others find that their yoga practice benefits their health conditions. Some like the stress relief and others come for the community or the connection with their spiritual side. No matter how much yoga you have experienced before, you will be welcomed.
Our classes are published on our website in a convenient class calendar format. You do need to register online before class and bring your own mat. When reading the class description, you will find out if other props are suggested. If a yoga class is not what you are looking for, we suggest a private session.
We also have online "zoom" classes that allow you to use your yoga pass. Those classes are also marked on our class calendar. Your teacher will send you a zoom link before class starts. The extra benefit of a bliss zoom class is that even if you cannot attend the class during class time, the recorded class video will be sent to you after class.
You can choose to pay the class drop in rate or purchase a yoga pass (passes are called series in our system and offer a discount based on pass size).
We do allow students to register with the drop in rate, buy a pass in studio before or after class and then use that instead of the drop in rate. We are not able to refund passes nor can they be shared between 2 or more people.
We do sell yoga supplies (mats, straps, blocks, blankets and bolsters) in our Bliss Shop and if you forget your mat at home, we are able to rent one to you to use during class.
Note: Due to COVID restrictions our class sizes are limited to a socially distanced set of 6 students. If you register for class and do not show up for class, your pass will be charged (sorry, no refunds).
See our Yoga Memberships & Pass Prices
– Schedule Private Yoga Session –
Yoga Classes & Styles
We love that we offer yoga style variety as well as the studio experience. We have listed a "sampling" of just a few of our classes here. Click the "+" next to a yoga style to learn more. Stay current on our classes by visiting our online schedule. We do post daily on our  Facebook Page if a planned class is cancelled.
Reminder: We do require that you register to attend classes. You will need to bring at a minimum a yoga mat. Many students like to bring a block and yoga strap. Classes like Restorative or Yin will suggest that you bring a bolster and yoga blanket.  Register Online. We do offer props for sale in our Bliss Shop.
Candlelight Yin With Melita – Also Zoom Candlelight Yin
Take your yoga practice on an inward journey, quieting the body and mind to encourage expansion at every level of your being! Delve into this deeply healing practice that is Yin Yoga opening the physical body to foster fluidity of movement and ease. Poses are generally all performed seated or close to the floor. These postures are held for some minutes allowing deep stretches to unfold with both effort and ease. You will want a yoga mat, block, bolster and blanket for this class.
On a physical level we create space in the joints and connective tissue by learning to relax muscles while engaging very basic long held yoga poses. On an energetic level these poses pressurize the body's organ meridians to cleanse and purify, facilitating the flow of Chi, our vital life force. On an emotional level we practice letting go and connecting to our heart center coming into stillness to find peace within. Enjoy this class to only the flickering lights of candles that allows you to find full relaxation for a good night's sleep, as well as, rejuvenation that will continue through the entire week!
Long, Slow & Deep With Elizabeth
Long, Slow & Deep is a gentle yoga class.  It is a wonderful way to experience yoga for those who desire a more gentle approach to yoga poses. Classes will be slow moving and focus on stretching, flexibility, balance, good posture, and relaxing. Gentle stretching and use of props will make this class perfect for those with physical conditions, seniors and over-stressed individuals. This is a perfect class for beginners as no yoga experience is necessary. Some postures will have the long found in the yin style using props in the restorative style. Bring your mat, yoga block, bolster, strap and blanket to this class.
Flow/Storative Yoga
Flow/Storative Yoga offers a wonderful blend of rejuvenating movement and restful practices. The first half of class will flow at a gentle pace to coordinate breath and movement while awakening your strength and flexibility with sun salutations and standing postures. The second part of class will combine floor postures, meditation practices, and guided relaxation to enhance qualities of comfort and calm. Flow/Storative is your invitation to feel more relaxed and restored within the flow of your day. Come as you are – all humans are welcome.
Bring your mat, 2 blocks, 1 – 2 blankets, and 1 strap to this class.
Good Morning Vinyasa – Also Zoom Yoga With Heidi
A delight to all who get to greet the morning and get focused for the day with Heidi! Good Morning Vinyasa will help to awaken, stretch and enliven the body and mind through a creative flow of sun salutations, standing and balancing postures, back bends, and seated postures. Breathing practices (pranayama) and guided relaxation will be included to further set the tone for a harmonious and energized day.  Heidi loves to teach you how to use props. You will need a mat. Over time, you might enjoy using a strap, block and blanket.
Hot Vinyasa With Melita or Kelly
The room is intentionally heated because of the many benefits it offers to your body. Heat protects your muscles as they move through their full range of motion. When practicing in the heat, endorphins are released helping to reverse the negative effects of stress. Heat increases the heart rate, which in turn, strengthens the heart. Heat causes the collagen around the joints to soften for more freedom of movement and improves the nervous system.
Be prepared to sweat. The process of sweating releases toxins, and exfoliates and rejuvenates the skin, which is the largest organ of your body. You will leave glowing. Hydration is extremely important so drink plenty of water before coming to hot yoga. Some yoga postures squeeze and flush your kidneys which release toxins in your body. Water is essential to help flush those toxins out. It is also important to drink water after class. Bring your yoga mat. Not required, but if you like bring your block and strap.
Hatha Yoga With Nadia
Hatha as a physical practice symbolizes the sun and the moon. Translated further it also captures the polarities of the body, the masculine and the feminine, the heating and the cooling, the positive and the negative. The intention of Hatha yoga, as a style, is to bring the body into physical balance and to connect that body (yoke it) to this all of its parts (mind/body/spirit).
Nadia writes, "As I see it Hatha is a limb of yoga that focuses on the power of the breath to initiate movement. In this class, we tap into deeper energies and moving through that energy. All levels of yogis can find relaxation or challenge depending on how your subtle body is calling." Bring your yoga mat.
Yoga For Beginners With Jessica
Yoga for Beginners is a class for everyone, whether you have never done yoga or practice everyday. This class uses pure movement techniques and a focus on proper alignment, breaking poses down into easily digestible parts and providing modifications and options to help you experience each pose in a way that best works with your body. Principles of yoga including asana (poses), pranayama (breath), meditation, and yogic philosophy are woven into each class in an easy to understand, modern, and personal way. All fitness levels will feel comfortable in this class. You don't need to be flexible, fit, thin, young, or strong; just curious. Start your yoga journey today, or continue your current journey with a beginner's mind. Bring your yoga mat.
Gentle Yoga With Mary Angel
A wonderful way to experience yoga for those who desire a more gentle approach to yoga postures. Classes will be slow moving and focus on stretching, flexibility, balance, good posture. This class promises a relaxing experience with a focus on postures that are easy on the joints. At the minimum bring a yoga mat. No yoga experience is necessary.
Zoom Yoga Nidra With Jessica
Yoga Nidra, sometimes referred to as yogic sleep is a great way to restore balance to both the body and mind. Join Jessica for this 25 minute practice where all you will need is a comfortable place to sit or lay down and your ears to listen. There is no movement during a guided Yoga Nidra. We will take a few moments to tune in together, begin to find our breath and then I will guide you into a deeply relaxed state. This ancient practice is a natural anxiety and stress reliever and great way to wind down after the day and prepare for a good nights rest.
Private Yoga
We offer Private Yoga sessions, Yoga Therapy sessions, Private Yoga Packages, Couples Private Yoga and Yoga Parties.
Call us and tell us what you are looking for so that we can craft the perfect private session for you

---
Yoga Membership & Passes
ALL Memberships include:
Get 10% off BlissShop Retail

Easy automatic monthly withdraw with Auto-Pay feature
Unlimited Yoga Membership – $120.00 /mo.
Enjoy endless yoga at Bliss!
Only $7.50/ class if you come 4 times a week!
These do not apply to workshops
No cancellation fee
No refunds
– BUY Unlimited Yoga Membership –
8-Pass Yoga Membership – $86 .

00/mo.

 
Keeps you motivated to stick with your practice
Perfect for Yogis who come twice a week!
Passes do expire, and do not roll over each month
These do not apply to workshops
No cancellation fee
No refunds
– BUY 8-Pass Yoga Membership –
Bliss Body Membership – $108/mo.


Get the best of Bliss with this Yoga & Massage Membership!
Maintains your healthy and happy body!
Get 1 Swedish/Reflexology/Pregnancy massage Benefit each month.
Get 4 Yoga Passes each month
Designed for 1 year of membership
Can be cancelled after 6 months
Passes do expire, and do not roll over each month
Benefits expire after 60 days from accrual
There is a cancellation fee of $50  if you cancel prior to 6 months
No refunds
– BUY Yoga and Massage Membership –
Yoga Passes
Passes can be used for ANY yoga class.
Purchasing Yoga Package saves you time and money.
Yoga Pass Packages expire after one year.
No auto-pay required.
20-Pass Package: $200
10-Pass Package: $110.00
5-Pass Package: $60
Drop-In Pass: $15
View schedule here.
Student Class Passes
20-Pass Package: $160
10-Pass Package: $90
5-Pass Package: $50
Drop-In Pass: $12
Session Pricing For Bodywork Members
To access discounted Bodywork sessions, only a $10 Annual Membership fee is required.
Basic Services are only $57/ month (for 60 minutes).
Upgraded Services are only $87 (for 60 minutes).
Make it a 90 minute session for a small upgrade fee.
Guest Session: $75
No commitment needed
No Annual Membership Fee
6x Member: $57/session
$10 Annual Membership Fee
Commit to at least 6 sessions/ year
Pay $57 per month for 6 months
Pay $342 upfront and get all 6 benefits at once
Convenient Auto-Pay System
Ashtanga – Intro
Introduction to Ashtanga Yoga is our basic introductory class open to all students. We talk about the 5 elements (asana, vinyasa, ujayi breath, dristhti, bandhas); and run through a modified sequence – including Sun Salutes, and some Standing and Primary series postures. We generally don't count the breaths so we can study postures and alignment. This class is where we learn the basic sequence and practice so we can move onto Ashtanga Practice, Mysore Practice and Ashtanga Primary.
Members: Use your yoga pass. Guests: $15.
Each practice session is a journey. Create a practice that best suits your needs so that it is something that you look forward to. –David Swenson
Morning Core Yoga
Some of us like to get our move on early in the morning, to help us wake up and get those kinks out before we jump into our work day (you know who you are!) We will start with some easy stretches and sun salutations, and move into whole body flows and strength poses that wake up the core and prepare us to take on whatever the day gives us. Each class will include centering, warm-ups, flowing sequences, balance poses, and, of course, core work. Class may include inversions. Every participant is encouraged to develop an awareness of their own bodily requirements/limitations, and practice modifications as needed – this class is for you and your benefit! Breath awareness is integrated throughout, and we will end with deep relaxation. All levels are welcome.
Power Yoga
Power Vinyasa is a flowing series of asanas (vinyasa) linked by the breath, designed to build strength and stamina in the body, tranquility in the mind. The flow is vigorous but suitable for all levels with modifications given throughout. Power Vinyasa engages every muscle group with emphasis on developing balance and flexibility. Pranayama (breathing) exercises and meditation commonly included.
Members: Use your yoga pass. Guests: $15.
Shiva / Shakti Asana
This class brings about balance in the masculine / feminine, the yin / yang, the right / left, and the negative / positive? Join this class to celebrate the polarities with Hatha style Asana and kundalini infused repetition of postures linked with breath, movement and mantra. Enjoy Shiva / Shakti!
Shiva is the god of the yogis. He represents the destruction of the ego. His consort is Shakti. Shakti is the personification of the divine feminine creative power. She is the agent of change and liberation.
Balanced, united, together, these energies create the whole and bring us to the state of Bliss.
Dharma Flow
Looking for an opportunity to reflect and connect your mind, body, and spirit through gentle movement, breath-work, and meditation? Hit your reset button and set the tone for your week by joining Elizabeth, Heather or Emily for Dharma Flow each Sunday at 2-3PM.
Creative Meditation
This weekly class explores several types of meditations which are topic and theme oriented.Each week, a new offering of meditation is explored and expanded upon, to gain further understanding and clarity to use in one's daily life. This class includes a guided meditation and a brief silent meditation. Some of the topics and meditations include: Chakras, Kindness and Compassion, Relationships and Silent Mantras.
Deep Flow Vinyasa
This is a challenging, slower paced class that combines breath, movement, and deep holds to cultivate mind and body awareness.Poses are held longer utilizing deeper breaths and fluid movements to deepen our mind, breath, and body connections.
Deep Flow Vinyasa will pull from the 5 elements of yoga: Space, Air, Fire, Water, and Earth.Classes will alternate element focus to allow a deeper knowledge of these elements and to further experience these elements physically and internally through vinyasa. All classes will include a meditation.
Chakra Flow
Chakra Flow is a feel-good blend of abiding in poses and seamless dynamic movement that incorporates poses to balance our chakras.
The practice explores the empowering dance between the flow and the pause, and allows your experience to be a meditation in action. The combination of fluid sequencing and static poses has many benefits that include strengthening the bones, ligaments and tendons, improving balance and flexibility, toning muscles, and enhancing mental focus and body awareness.
All levels are welcome and each class will include centering, warm-ups, flowing sequences with static yoga postures (standing and seated), inversions, breath awareness, and deep relaxation. This Chakra series will focus on balancing our energy fields with yoga.
Ashtanga Practice
This is a one hour version of the 2 hour led Ashtanga Primary. We eliminate a few Standing and Primary series poses for time, but always include 4 Sun Salutes (2 A, 2 B), and entire Finishing series (inversions). The idea is to flow, so we don't break down poses or practices into their component parts (If this interests you , join us for the Ashtanga Primer). This class is for students with experience of Sun Salutes, Standing and Seated postures – it does not have to be Ashtanga experience.
Members: Use your yoga pass. Guests: $15.
Ashtanga Primary
This is the traditionally led 2 hour Ashtanga Primary including all the Sun Salutes, and all of the postures from the Standing, Primary and Finishing series with all vinyasa. There is minimal posture instruction; and the 5 breaths of each posture are counted aloud by the teacher(the conductor: train or orchestra). The point is to flow through the sequence like a train, so it too is an experienced only class. However – no one should push themselves past their limits or into injury. Any vinyasa or posture can be skipped, but the ujayi breath and mental focus are maintained. There is time for questions or to review any posture or practice before the train leaves the station, once it's on track it does not stop! All aboard! Experienced only.
Members: Double dip your yoga pass. Guests: $25.
Ashtanga Mysore Practice
Mysore (my-SOR-ee) classes are unique to Ashtanga Yoga. Students get individual attention from teachers, plus a supportive environment for practice. Class begins with the opening chant, then students proceed through their practice at their own pace – this is not a led class. Practice notes are encouraged if the entire sequence is not yet familiar. The teacher walks the room observing and advising individual students as needed – anything from what pose is next, to modifications and assists/adjusts for any posture. Introduction to Ashtanga classes are recommended before attending your first Mysore practice. Any level student with some Ashtanga experience and an eagerness to learn the sequence are welcome. Mysore Practice is a beautiful way to share, learn, and inspire each other on the beautiful journey of Ashtanga Yoga! Drop in rates, or single punch yoga pass – that means you get 90 minutes of yoga for a 60 minute price!
Members: Use your yoga pass. Guests: $15.
Ashtanga Flow
Ashtanga Flow is a vinyasa class based on Ashtanga Yoga. It is open to all levels of students. Some days we may stick to the traditional sequence of Ashtanga; some days we may play with the sequence a bit – adding in Warrior III, modifying the Sun Salute, revolving Janu Sirsasana – whatever we like. Maybe you'll feel so great from Mysore Practice, you'll stay for Ashtanga Flow!! This is a class with a little wiggle room to study postures and practices, even from outside the Ashtanga Tradition.
Members: Use your yoga pass. Guests: $15.
Ashtanga Primer
Want to learn the Jumps of Ashtanga Yoga? Then this is the class for you! This class does NOT focus on the flow. We break down practices and poses into their constituent parts. We review Sun Salutes to make sure our form is correct, study difficult postures, and work on the myriad of jumps in Ashtanga yoga. This may involve hands on assists from the teacher or partner work. In this way we can study these practices without disturbing the flow of class.
Members: Use your yoga pass. Guests: $15.
When you master the jumps, you will not get a congratulations card from Mysore – you'll just be given something else to work on!" The Jumps are a difficult challenge, take joy if/when you can do them, but remember they are just one part of the practice of Ashtanga Yoga, not a goal or an end in themselves. "Asanas are not the goal. They are a vehicle to access a deeper internal awareness. –David Swenson
Beginner's Yoga: Level 2
Building on Rebecca Herod's popular Yoga for Beginners class on Monday and Wednesday, this Level II class will incorporate new and more challenging asana such as arm balances like crow and side crow and inversions, like head stand and hand stand. As always, poses will be broken down and modified to allow students to work on their practice at their own pace and level. Students should have a basic yoga vocabulary and have taken at least 2 months of a beginner-level course prior to this course.
Bliss Toddlers & Me Yoga
BlissToddler & Me is a fun-loving, active yoga class in a safe, friendly environment for toddlers and their parents or caregiver. Together we will animate yoga poses that encourage and support toddlers' physical explorations and growth. Stories, music and dance will be integrated to embrace the joy of being happy, healthy & blissful!
BlissKids Yoga
BlissKids Yoga embraces the joy of being a kid by providing a safe, fun and active way to be happy, healthy and blissful! Through storytelling and imaginative play, children will explore yoga poses, breathing practices, and guided relaxation to foster creativity, self-esteem, and calming techniques.
Bliss Big Kids Yoga
Bliss Big Kids will improve strength, flexibility, coordination and Literacy! Children will learn how to focus and center themselves with various breathing and visualization techniques. They will explore the art of story telling with yoga. They will also learn self-respect and respect for others with the practice of fun postures, group games, breathing and music. Class is 45 minutes. Ages 6 – 10 year olds welcomed.
Feel Good Yoga
Feel the aches and pains of daily living and know yoga can help? No matter if you are a busy parent, sit at a computer for hours, or work your body hard with various sports & activities, this is a class for Every Body. Experience how good yoga can make YOUR body feel. This class will blend Hatha Yoga (static poses) with Vinyassa (stringing poses together to create a flow). Focus area that carry tension like back, hamstrings, and hips will always be explored. No experience necessary.
Hatha Flow
Hatha Flow is a feel-good blend of abiding in poses and seamless dynamic movement. The practice explores the empowering dance between the flow and the pause, and allows your experience to be a meditation in action. The combination of fluid sequencing and static poses has many benefits that include strengthening the bones, ligaments and tendons, improving balance and flexibility, toning muscles, and enhancing mental focus and body awareness. All levels are welcome and each class will include centering, warm-ups, flowing sequences with static yoga postures (standing and seated), inversions, breath awareness, and deep relaxation.
Members: Use your yoga pass. Guests: $15.
Kundalini Yoga
This yoga helps to promote happy, healthy, & peaceful Yogis! For many, Kundalini yoga, is a spiritual practice. This class will combine breath work, repetitive kriya, meditation & mantra. Awaken your life-force energy – Feel joy and vitality that Kundalini Yoga brings to the body.
Partner Yoga
Partner yoga is a modern twist on an ancient practice. By working with a partner you can stretch deeper and more effectively into poses – sometimes with less physical effort on your part, giving you insight into the full potential of a pose before you can achieve it on your own. It also fosters a deep sense of trust and connection – your experience is literally in each other's hands (or feet, or back, or….)! Partner Yoga is most compatible with someone of similar size and ability; but sometimes the fun (and learning) is in adapting poses to fit a variety of sizes and abilities. The human body is able to sense proper force and support, to mold and adjust – making it the ideal "prop". It is a fun, lighthearted, exploratory practice; and complements any style of individual Hatha yoga practice. Remembering and visualizing assists from Partner Yoga takes you deeper into poses when practicing alone. Appropriate for all levels of yoga experience; bring your own partner, or pre register if you need one.
Remember: If you do not have a friend, family member or partner, wanting to take this class with you, contact Mary Jo Schick ([email protected]) about your participation in this class. If you would enjoy a different time for this class let her know this too. Price: Use your yoga pass
Tai Chi
Tai Chi is a meditation in movement designed to unify the body and mind through the use of slow moving, fluid postures and coordinated breathing techniques. Each class will stress individuality and act as a guide for the student to find a way of performing Tai Chi that works for them. We will learn Tai Chi forms (sequences of movements), Qigong, and partner exercises.
Members: Use your yoga pass. Guests: $15.
Teen Yoga
Yoga is great for teens! Athletes can improve performance and flexibility, and learn techniques for focusing the mind. All can benefit from learning ways to use the body and breath to reduce stress. Join us for classes designed to meet the unique needs of teens.
Members: Use your yoga pass. Guests: $15.
Mindful Movements Yoga (Tween/Teen)
This class introduces the practice of flowing smoothly through our yoga poses to build focus, concentration, and determination. A greater focus on proper alignment, arm balances, strengthening poses will help youth appreciate and understand their growing bodies. Breathing exercises and relaxation techniques will help youth cope with stress in their every day lives. We will incorporate meditation and mindfulness exercises.
Yoga Kids
4 week long Yoga Kids class for 3-7 year olds. Space is limited and pre-registration is required. To Register contact Adrian Kettering at [email protected]. The benefits of yoga for children are much the same as they are for adults: stress relief, relaxation, flexibility, exercise and movement. It is a great way to get your child active, and also to learn a little about their connection with nature and the environment. And the best part is that there are no issues with competition because everyone wins in yoga! When scheduled the class is for 4 weeks. Pricing: $40 for 4 classes (siblings $32).
Anusara Inspired
This style of yoga is designed to move you from the inside out. Each class begins with centering around a heart oriented theme that helps us to know and express ourselves completely. Principles of Anusara yoga are taught in a way that keep the class flowing and help connect body and breath. Opening to grace helps us to connect with our foundation and to the abundance of grace that is ever-present in our lives. Muscle energy helps us create stability and hug in to our inner light. Organic energy encourages us to expand and move beyond preconceived ideas of limitations that we might have for ourselves.
Members: Use your yoga pass. Guests: $15.
Hatha Yoga
Traditional postures introduced in Yoga Foundations will be expanded upon in this all-levels Hatha Yoga practice. Precise instruction will also include an introduction to Sun Salutations and a variety of standing and seated poses. This class is open to anyone looking for a gentle challenge to enhance one's balance, strength, and inner-calm. Relax, Breathe, Stretch!
Members: Use your yoga pass. Guests: $15.
Vinyasa Yoga
Flow with strength and grace in a dynamic Ashtanga-inspired yoga practice that synchronizes fluid movement with smooth, deep breathing. Participants will learn safe alignment in postures, explore movement as meditation, and improve whole-body strength and stamina. The class will include centering, sun salutations, standing and seated poses, backbends, gentle inversions, and deep relaxation. All levels are welcome in this active class.
Members: Use your yoga pass. Guests: $15.