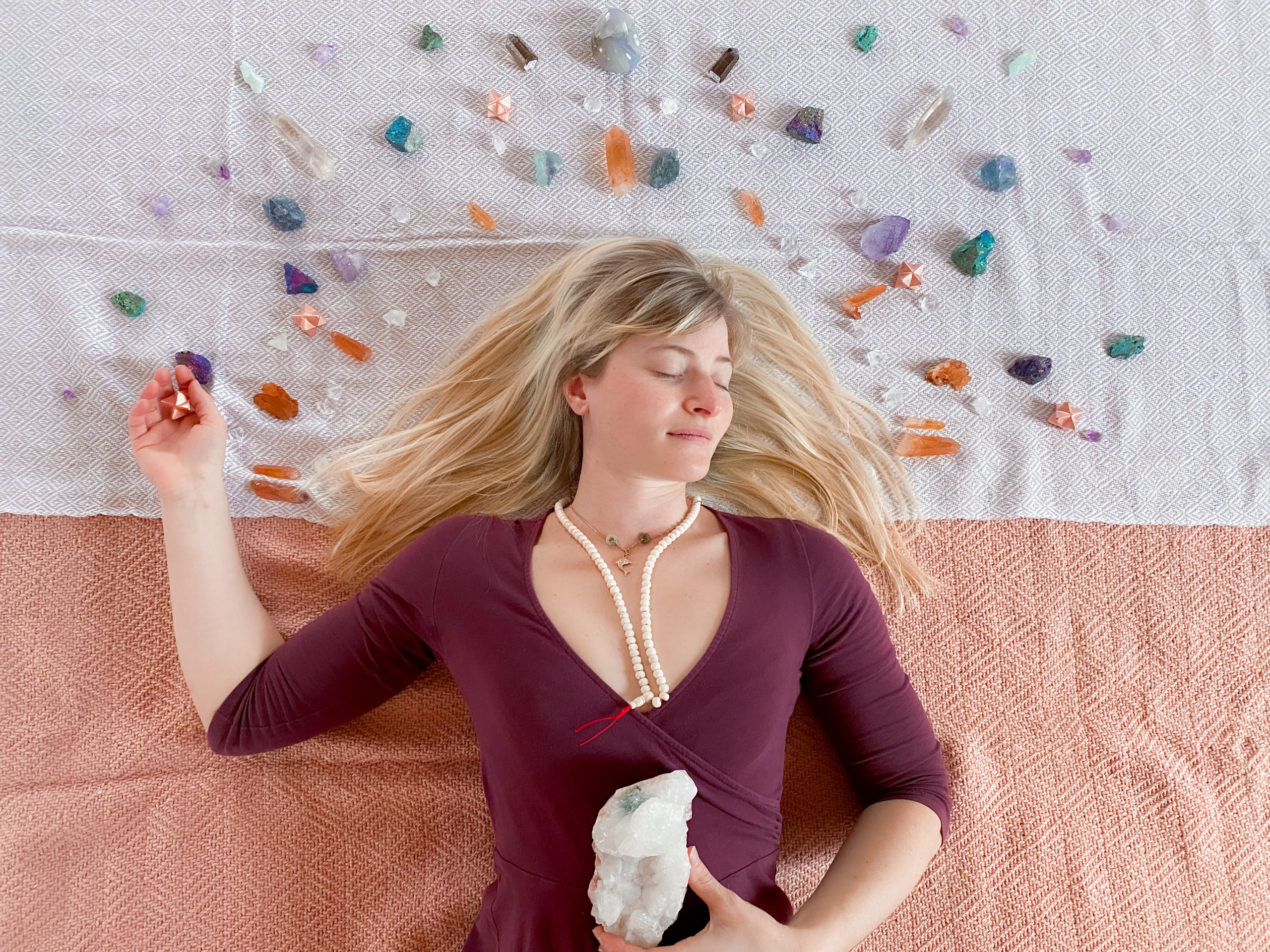 Extra Extra: Bliss Newsletter "I could stay here forever"
Soon Fall Edition
By Elizabeth Halliday-Reynolds
"I could stay here forever", she sighed. Yes this is what Nadia said when I put this crystal layout around her body at this photo shoot. What gives me the happy shivers is that I have heard this type of phrase so many times over the last 13 years. Indeed, I have said those words myself as I lay on the massage table or was about to leave the yoga mat. Those 5 words speak volumes. Those words illuminate the blissful feeling that we help you embody. Those words are what bliss is all about.
So I am asking those of you who are taking a moment to glance through this newsletter if you know of anyone who could use some bliss? Please forward this link to them. Perhaps this is what they have been needing. We love to share the BLISSNESS.

If you know this life of "busy schedule, and juggling EVERYTHING", more often than not, this includes taking care of someone. Jessica is an example for us all. She embodies just how much yoga is helpful when you are in the caretaker roll. She will tell you with certainty that yoga has helped her! The "Yoga For Caretakers" class is going to be perfect for anyone living with all of the caretaking responsibilities. Jessica will guide you away from compassion fatigue and toward the place of spaciousness and healing! Oh! And let's not forget that Jessica just added a restorative workshop to the schedule! SIGN UP FOR SEPT 19

Mary Angel and Special Guest Laura have teamed up to create series of 8 chakra yoga classes. They call it,"GETTING TO YES!". You are going to love the learning and the tools they highlight to help with growth and self realization.

Massage Is The Best! We are in the habit of letting our hands do the talking. Take a look at some to the creative offerings we have. Cupping, scrubs, aromatherapy, hot stones, SERIOUSLY we really put the bliss in bodywork.

SHHHHH no seriously tell everyone, rumor has it that a new singing bowl is wanting to come to bliss!. We call Guided Meditation with Marilyn Limitless & Expansive Bliss! You will have to sign up in advance as this class sells out!

It is uncanny, but you have come to just know that Melita has a knack for knowing exactly what your body needs each time. So sign up for the most delicious virtual Yin Yoga classes. Remember she sends the replay.

OUR MONTHLY MEMBERSHIP PLANS ARE STRONG They run for ONLY 6 months. They offer the best value. The benefits for body work and yoga NEVER expire. You get 15% off in the Bliss Shop. Our motto of "Relax . Breathe . Stretch", translates to flexible bliss for you. Check out our Memberships.

Heidi moved her so delightful Flow/Storativ to Monday morning at 9:30. I happily filled that Monday noon spot with SALUTATIONS & BALANCE. Then Heidi and I teamed up to bring back SPA RESTORATIVE. We set the spa restorative date for Sunday Oct. 10. Hope you can join us!

Tell your friends about Bliss and help make a better world
BlissBlissBliss
Elizabeth