By Elizabeth Halliday-Reynolds
Did you get a Bliss Gift Certificate? What a beautiful way to start  the new year off!
We love it! We might be just as excited as you.
While our certificates never expire, we are going to encourage you to not hold off from scheduling your bliss. Imagine how relaxation moves through your body and creates space for calmer interactions with others. Imagine the transformation that starts within, just by feeling good.
We want to give a quick tour on how to use that gift certificate.
If you got a pdf version of your gift certificate, the bar code has a number on it that can be used in replace of booking with a credit card. If you got one of our in-house versions, you might see that number hand written on the back.
Know that if you loose your certificate we can find it in our database. It will be in your name and cross referenced from the name of the person who purchased it for you. If they made it out to "Mom", we can still find it sorted by their name.
If you just want to call and book by talking with a real a person, I do answer all voice mails. Leave me a message here (304-413- 0270). If you call from a cell phone, our robot will try and help you book until I get to you. You can type "speak to a receptionist" and I will get to your message as soon as I can.
Sometimes people are not sure which service is best for them. Give me a call, I am happy to listen to what you need, what you love and find the best fit.
Our booking site sorts our services like so:
Consultation | Events | Intuitive Services | Massages | Spa | Therapy | Wellness or Integrative | Yoga
You can follow each category to find the service you would love to book and then book that way.
If you want a different view to navigate, try this one that might be better optimized for browsing from the cell phone.
Know that we just are not set up for drop in. While you might find a same day massage or bodywork appointment, the best option is to plan ahead
THANK YOU for supporting our collective of small bliss businesses. While it may look a big facility, we are really a bunch of heart centered skilled professional yoga teachers, massage therapists and bodyworkers. We each individually set our own hours and work together to make the bliss space warm, inviting and homey enough for you to find the space to flow and transform.
Unlike most larger businesses in our industry, we do not have reception. We prefer to make lasting relationships with you and each of us support the bliss shop before and after our sessions. I am happy to schedule a bliss shop visit for you to come in and browse at your leisure.
Being in Bliss is extraordinary and we all believe that you deserve this!
We can't wait to see you soon.
BlissBlissBliss
Elizabeth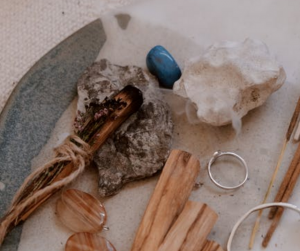 What is in the Bliss Shop: Crystals, Incense, DoTERRA essential oils, DIY supplies, face and body care items, Faire trade textiles from Hilos_co, Hand poured candles, Grid cloths, Inspirational decks, yoga props and supplies, cards, journals and more. We try to fill our shop with relaxation inducing goods from makers who are USA made and small batch. We are not big box, but our prices are fair and represent a deep support of our community. 
How to arrange virtual shopping and curbside pick up? Leave me a message by calling 304-413-0270 or send us an e-mail at [email protected]. Since I am a working massage therapist and yoga teacher who also sees clients, I do not keep shop hours but I do answer all messages left for us. If no message is left, I do not call back.
Follow us on Facebook to see the latest new classes, new products and other information. Don't have Facebook? Look at the Schedule page on our website and scroll down to see our FB posts there (bottom right corner).
See you at BlissBlissBliss!