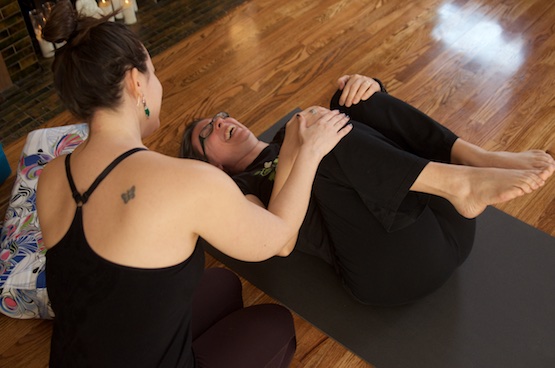 Yoga Therapy for Low Back
By Melita Mollohan
Chances are pretty high that you've experienced some back pain in your life. While you might be one of the lucky ones who have only experienced a brief stint of back pain, it's more likely that in today's world that you are one who suffers more than every now and again.
We spend too much time sitting… siting in the car driving… on the couch watching tv… at our desks in front of our computer or hunched over paperwork. Over time this can cause some serious aches and pains in our back, especially the low back.
This 4-week series is open to everyone. Must be able to walk up a flight of stairs. No prior yoga experience necessary. If you have a yoga mat bring it, if not, don't worry, all props used will be provided for you.
In this 4-week series you will:
Learn how to strengthen your low back to help counteract those years of bad posture and bad habits of sitting for extended periods of time that cause our back to be weak and ache.
Learn what to do when your back starts hurting.
Learn preventative things that you can do to keep your back from flaring up.
Receive handouts of what we worked on so that you can continue to work at your own pace at home.
Receive a 2oz bottle of "Melita's Magical Magnesium Spray".
This 4-week series will meet:
Thursdays, March 1st, 8th, 15th, and 22nd at 4-5pm at BlissBlissBliss on Greenbag Road
The cost of the 4-week series: $100 this includes:
15-minute private phone consultation with Melita Mollohan, Yoga Therapist, to go over your health history.
4 weekly classes designed specifically to support YOU and your low back.
handouts so you can keep your Yoga Therapy practice going at home.
2oz bottle of "Melita's Magical Magnesium Spray."
[button link="http://spab.kr/jfZr4gt" size="medium" align="center"] – Yoga Therapy For Low Back Registration Link – [/button]
Once you register, Melita will reach out via email and schedule your 15-minute phone consultation.
Due to the nature of this 4-week series, spaces are extremely limited – this means register early.