Bliss Welcomes Sarah Smith as a new Massage Therapist!
Specialties: Swedish Massage, Myofascial Release, Neuromuscular Therapy, Reflexology and Aromatherapy
I am a recent graduate from the Pittsburgh School of Massage Therapy and am absolutely thrilled to join the staff at BlissBlissBliss. I am a Morgantown native, growing up in the beautiful hills of West Virginia and a 2004 graduate from West Virginia University. I am also a 2010 graduate from Boston University with a Masters in Health Communications. Over the last ten years I have done the "corporate grind" in the Washington, DC metro area and locally and recently have decided to shift gears in my career. I've been looking for something that gives me purpose and fulfillment in helping others – and I've finally found it in massage therapy and bodywork!
I have always had a passion for holistic medicine and alternative approaches to healthcare such as massage, energy work, crystal and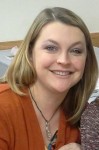 stone energy, essential oils, meditation, tai chi, and yoga. I am grateful to now have the career that allows me to take my interests and experiences in healthcare and medicine and combine them with my experience and passion for community health and wellness. I am driven to help others by alleviating pain, both emotionally and physically; assist in overcoming stress; and promoting relaxation and balance. I also plan to become a nationally board certified massage therapist and interventionist by the National Certification Board for Therapeutic Massage & Bodywork, as well as become certified in lymphatic drainage massage, pregnancy massage and cranio-sacral therapy – so stay tuned as my specialties grow.
Personally, I love the outdoors, hiking, camping, photography, bluegrass music and wrapping crystal jewelry. I am passionate about environmental conservation and have a background in grassroots advocacy. I am a newlywed to my amazing husband Phil who is a high school history teacher. Together we are huge Pearl Jam fans and follow them around the country!
Certifications: West Virginia Licensed Massage Therapist, Certified in AromaTouch Technique, and American Massage Therapy Association member
Phone: 304-413-0270 (Bliss office), 304-685-1120 (cell)