When you open a door to Bliss…..
When you open a door to a yoga or meditation class you will want to step inside. When you step inside a class you will want to practice. When you practice our offerings you will want to explore more!
We offer many different styles of yoga, yoga philosophies, and meditation practices. This makes Bliss a one-stop-shop for any kind of yoga you are looking for right now.
Take our Gentle, Yin, Shiva/Shakti and Restorative classes for example… the use of our bodies are not lost in these practices. Though the names may suggest an easy practice they offer more challenges than you would think!
To start off, you have to breath the whole time. This can be a neutral easy breath or more advanced ujjayi breath, but this breath is with you through the whole things. We catch ourselves holding our breath when holding a pose; gentler and slower practices help expand a more vigorous practice by teaching your body how to breath, and to breath through intense moments. Re-learning step one to refine your already developed practice.
Beyond breathing there is the challenge of poses. In Heidi's Restorative classes you are propped and cushioned to comfort, and then you rest in a pose from 5-15 minutes. This undertaking goes by much faster than it sounds, the challenge here is to sit with yourself. Keep on breathing, focus on the now and not the "To-Do" list, feel your body responding and sinking deeper into the pose, dealing with emotions as they rise out of your formerly stagnate body.
In gentle classes, like Laura's, you can learn so much about your body and how each pose is beneficial for your body. Laura specializes in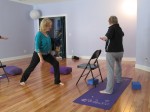 helping those with stiff and inflexible bodies, people with osteoporosis, osteoarthritis, and bodies that are older. If your a new yogi this is a great class to learn about taking care of yourself. If you have a vigorous practice this is a wonderful opportunity to slow down and heal your body.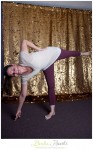 Elizabeth has a way of making you feel loved and warm when you practice with her. Her teachings stem from a Kundalini background and incorporates simple mantras for you to hum as you move.  Her practices can be done with eyes closed; taking you for a ride on the inside. Stirring the sleeping snake within our Mula Bandha (pelvic bowl abdominal lock). This is an excellent class for those who are seeking a more connected yoga practice, or those who need deep healing.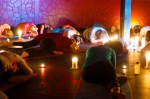 And last but not least, Melita's Candlelight Yin classes! Yin yoga traditionally hold poses anywhere from 1-20 minutes; talk about opposite of gentle! Although this practice may seem to slow, it actually gives your body time to naturally loosen and soften your tight muscles with gravity. Melita's teaching style makes you feel at home no matter the pose, and the candle lighting helps you forget where you are and relax. This type of yoga can be very relaxing and restorative when props are used, or it can easily transform into a core intensive practice. Although it is a strong slow practice, the energy of the room is kind and lack the sense of perfection.
As with all of the classes at Bliss, we strongly encourage your own intuition to come forth and be your guide!
Next time you are itching for something new try out one of these gentle yoga classes and explore more of yourself.
Click Here to reserve your spot on the mat!