If I Were A Social Media Influencer
By Elizabeth
If I were a social media "influencer" and I could choose to be a brand ambassador, I would choose DoTERRA.
I love this company and I love these oils.  I use them in my treatment room, I diffuse in the lobby. I have them in about every room in my house (use it or loose it baby). Basically, I use them ALLOT.  But why this company? Why would I love to be their brand ambassador?
I can credit this company for being the impetus for me getting a in depth aromatherapy certification. I have hundreds of success stories in using their products. One reason for my groupie like love for this company is the way in which they help every day people understand and learn how to use essential oils based products safely in their home.
Every year, I trek out to Salt Lake City for more in depth training. This year, that won't happen. The good news is that I can to go "virtually" and the even better news is that you can go virtually too!
Would you like to come with me?
You should be able to buy a virtual ticket tomorrow. Can't wait to post more on this topic, stay tuned.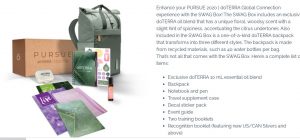 We want to make sure you have our shop link so that you can order direct from them but giving us shop credit for your purchases. [button link="my.doterra.com/blissblissbliss"]Get Your Products Online With Direct Ship From Doterra [/button]
BlissBlissBliss Your Friend That Sells DoTERRA
Note:Membership will be offered when you add an item to your cart. If you decide to become a DoTERRA club member, you get 25% off all products when you order online and we still get shop credit.