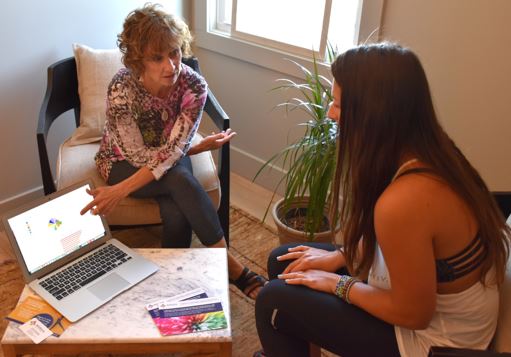 Finding Strength in Vulnerability
By Colleen Harshbarger
I love helping clients find their inner strength, especially because I know that it's something we all have even though we aren't always aware of it. Eight months ago, I was in a car accident that left me with minor injuries, whiplash, and a concussion for which I am still receiving treatment. I was grateful that the damage wasn't worse and that I have access to talented healing professionals; however, the time needed to devote to healing challenged my patience. I was scheduled to sit for the first ever National Board of Medical Examiners' Health and Wellness Coaching exam a few months after the accident and was signed up for a business plan competition. How I was going to pull this off with this accident induced " head in a fog?" I had no clue.
I'm reminded of what I love about being a health coach and a yoga teacher. – Self-Responsibility & Self-Love, two pillars of wellbeing that I help clients tap into, served as guideposts and reminded me that I had what I needed to heal.
I felt vulnerable not being able to work or think clearly, and being vulnerable isn't a place I'm comfortable with.
I found that some of my usual strategies for dealing with emotional discomfort didn't work, like running or riding my bike, and that I can't always outrun vulnerability. What do you do when you feel vulnerable? Is it hard for you to slow down or ask for help? Here are some strategies that I help clients with and have learned to embrace myself when I most need them.

Healing practices like aromatherapy, gentle yoga, nourishing and mindful meals and grounding in nature nurture me back to health. Asking for and accepting help even when I can't reciprocate is hugely vulnerable for me, and well worth doing. Dedicated daily time in meditation practice, planting seeds of intention and deeply listening to my heart helps me embrace the start of the day. Reflecting on Pema Chodron's teachings about the fundamental uncertainty of life,
I realized that the uneasiness that was floating to the surface of my being was a sign of health and wholeness.
Life is unpredictable, sometimes painful and always changing. Chodron refers to the constant state of flux and feeling of uneasiness as groundlessness. In her book, Living Beautifully with Uncertainty and Change, Chodron says: "By fully touching this relative moment of time . . . by being fully present to your experience, you contact the unlimited openness of your being." She sums up her advice for embracing as:
Be Fully Present
Feel Your Heart
And Engage the Next Moment Without an Agenda
I'm practicing this way of living and would love to help you do the same. I know when I acknowledge feeling vulnerable, that it's okay, because, just like everything else, it will change.
I hope this note resonates with you and that you will consider some coaching with me. I do offer my coaching services at Bliss and have created this package because of my recent experience.
Colleen
If my story resonates with you, Reclaim physical, emotional, and/or spiritual health EARLY this year with whole person health and wellbeing coaching. The sobering and life changing experience I experienced this past fall, has prompted me to create this Offer for you: A coaching package that includes 6 in person visits with me and offers you access to an online wellbeing management platform for $297.
Questions? Call me at 304-508-2398 or email: [email protected]