DIY Bliss: Sweet Summer Skin
Welcome to my first official DIY BLISS Blog! This week I'd like to feature the ability to get Sweet Summer Skin!
This is a DIY spa treatment that you can do in the privacy of your own home, so no one has too see the messy process of creation, application and purification!
This Sweet Summer Skin spa was inspired by SUMMER TIME! And a little help from Taylor Cope behind the desk 🙂

Really what I was feeling, was the peeling skin from my first burn and reminiscing how smooth and buttery my skin felt after my facial with Kaityln Stoner here at Bliss. I wanted to have that buttery feel ALL OVER!
The plan is to make a Salt Scrub, Green Clay Face Mask, and Lotion.
So I gather my ingredients (conveniently from the Bliss shelves) and a few things I already had at home.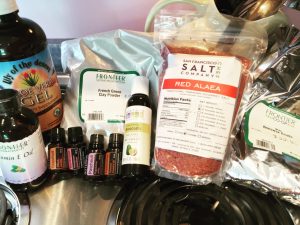 Saturday I was all alone and could indulge is all the relaxation and self-love.
I began with the simplest first, Salt Scrub.
In a little bowl I placed my salt, oil and essential oils. I chose grapefruit for it's relaxing and uplifting qualities, and patchouli for its bug-repelling power. You can swap sugar for the salt or mix them. I chose salt since it's summer and my skin doesn't need excess moisturizing.
So I just mixed these three loves together and noticed I wanted more oil (I used the Jojoba since I had it on hand) so I just added a little more until I got the consistency I wanted.

With that done, I took out another small bowl and began the face mask. Also a quick and easy mixture.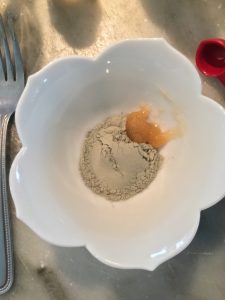 I scooped out my clay, a bit of honey, and I used frankincense since I knew that it's great for skin healing and goodness. If you have a skin that is prone to blackhead or pimples I would recommend Tea Tree as it's great for "cleaning dirt".
I mixed all this in before I added the water. I slowly add water and thoroughly mix and scrape as I go. I may not have used anymore than a 1tbs or so for this mixture. You want a smooth even consistency so when you put it on your face you don't have chunks.
Scrub and mask done, it was time to face my fears of making lotion.
I has no idea how this would work; if my little blender would be strong enough. So many doubts, but I pushed on. I followed the directions from the blog I got the recipe from. I did change the recipe slightly as I thought it was a little too "waxy" for my desires.
You can use any essential oils you have, but since this was to help me with sunburn, I chose the sandalwood and I like the combination with the uplifting tangerine. (FYI: citrus oils will burn if you hang out in the sun too long)
The instructions say to cool the beeswax and jojoba before, and they mean it! Take your time.
After the mixture is cooled ( but not too cool!) Turn on your trusty blender and SLOWLY add the aloe mix.
I would have photographed this process, but I was sure I screwed something up and my heart was breaking. But keep on going folks! You have to do a ton of scrapping of sides, and blending, then more scraping, and so on. The directions say for about 10 minutes, and they mean it!
My mixture looked like a marshmallow goop and water…. and then, like magic (of course), it all came together
It looked so good!!! I wanted to eat it, which I could have if I didn't add the sandalwood oil. (next time!)
With the work done, I went to the garden and got myself sweaty, dirty, and ready for my well-deserved pampering. 
I hopped in the shower and got my scrub on! I loved the salty taste as the scrub washed off of me, I felt like I was at the beach! The gorgeous red color and abrasive nature of the salt efficiently washed of all the dirt. Since the essential oils are anti-bacterial and anit-fungal I skipped the soap! The oil left my skin nice and moisturized after I toweled off.
I Painted on the mask with a clean paint brush that I ONLY use for my masks. You can use a spoon, or fingers, or whatever you prefer…
Since the clay dries out you want to be sure to wash it off BEFORE it dries. I washed it when I felt it tightening and drying.
While the face dried I applied the lotion all over and LOVED the way it felt!
Needless to say, I was happy and super smelly after my Sweet Summer Skin self-spa!
Share your experience with these recipes below in the comments section!

Shopping/ Ingredient list:
Salt Scrub:
1 cup ~ Red Alaea Sea Salt*( (read more…)
1/2 cup ~ Oil* (Avocado, Coconut, etc.)
2 tbs ~ Coffee Grinds (Optional & used is okay)
15-20 drops ~ Essential Oils* (Grapefruit and Patchouli)
Green Clay Face Mask:
1 tbs ~ Powdered Green Clay*
1/4 tsp ~ Organic Raw Honey (can find at Mountain People's Co-Op)
2 drops ~ Frankincense Essential Oil* (Tee Tree is good for cleaning dirt)
Water
Lotion:
1 cup ~ Aloe Vera Gel*
1/3 cup ~ Grated Beeswax*
1/2 cup ~ Jojoba Oil*
1 tsp ~ Vitamin E Oil*
15 drops ~ Essential Oils* (I am using Sandalwood and Tangerine Oil)
*These items can be found at Bliss!*
Tools Needed:
Bowls
Spatulas
Small pot
Glass Measuring cup (or fashion a double boiler)
Measuring cups & spoons
Blender/ Vitamix
As always, thank you for reading!
Namaste,
Nadia Caterina <3
Bliss Bliss Bliss
Average rating:
0 reviews