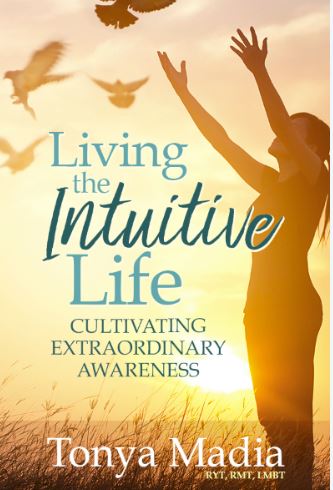 Can You Cultivate Intuition?
Join Special Guest Tonya Madia for her workshop "Cultivating Extraordinary Awareness".
We are really thrilled author and medium Tonya Madia will be at BlissBlissBliss leading this workshop to help you discover what it means to live the intuitive life and how to cultivate your own Extraordinary Awareness.
It wasn't until I began to study energy healing that I understood that I was simply "tuning in" to the vibrational frequencies of my surrounding environment.
Many people think of psychic ability as a power reserved for a few special individuals. The truth is quite the contrary. Intuition is a natural ability that all human beings possess. In this three-hour workshop you will explore how what we label "psychic ability" is actually just a natural part of the human condition.
You will love:
Discovering how to reconnect with the inner Magical Child, who sees beauty everywhere, understands the sacredness inherent in nature, and believes that anything is possible. The Magical Child and the inner voice are closely connected so the Intuitive Life requires that we find ways to reconnect with this part of ourselves.
The interactive exercises that help you determine your dominant style of sensing and incorporate fun tools to show how to use these natural abilities to enhance your life.
The Free Book AND Book Signing!
When: Saturday, September 16th 10AM–1:30PM.
[button link="http://spab.kr/lMbE3il" size="medium" align="center"] – Cultivate Intuition & Awareness – [/button]
Notes: Yes!!! The registration cost of $80 includes your signed copy of Tonya's new book Living the Intuitive Life: Cultivating Extraordinary Awareness. Registrants can also book a discounted private reading Sept. 13-15 ($65 vs. $75). This workshop bills at registration and is non-refundable. Send a friend if you cannot attend.
[button link="http://spab.kr/EMsG2QB" size="medium" align="center"] – Book Your Private Session (discount at checkout) – [/button]
Tonya is open for bookings 9/13-9/15 from 10-3.

About Tonya Madia, RMT, RYT, LMBT
Tonya has been studying the human energy system and energy healing for 14 years. She was originally schooled in Pranic Energy Healing in 2000 and received her Level 3 Reiki Certification in 2009. As an empath, she recognized at an early age her sensitivity to the emotions and physical experiences of those around her.