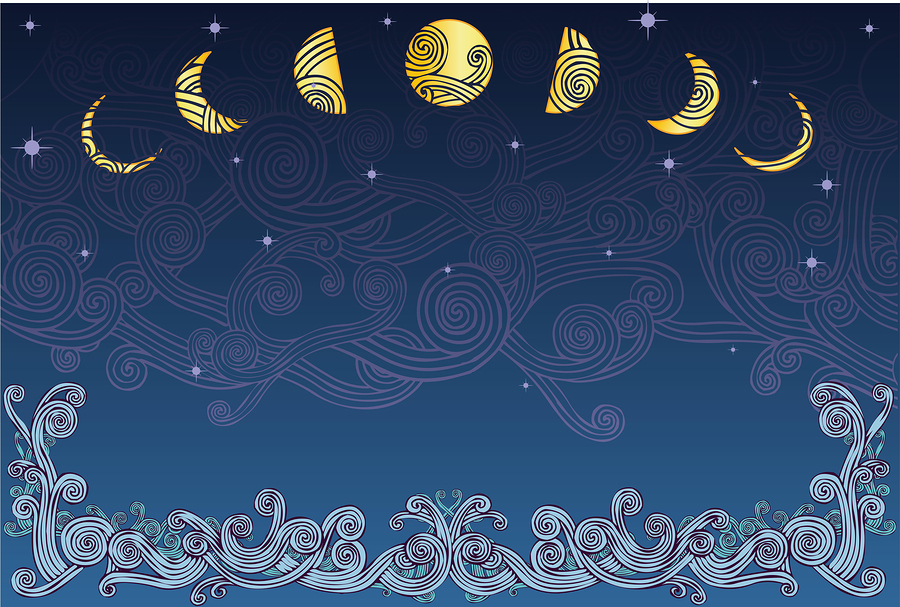 A Crystal Grid Honoring The Moon
By Elizabeth Halliday-Reynolds
I was thinking about the moon phases and how since ancient times humans have followed the moon. With careful study, people learned when they could expect edible plants to emerge, when to put seeds in the ground and when to harvest crops. Moon phases helped to mark celebrations and helped people navigate on long journeys.
There was this picture that I found some time ago that captured the moon as it traveled from new to full and what struck me as absolutely beautiful was how that natural arc created an infinity symbol. Ah Sacred geometry is everywhere!  Hats off to the photographer Giorgia Ofer for this image!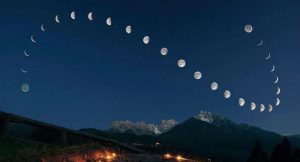 We recently got some grid cloths in the #shopbliss. One of the designs is the infinity symbol and of course it caused me to reflect on this image and how fun it would be to make a grid that represented not only the infinity symbol but also the phases of the moon. This led me to reading more about the moon phases and their emotional meaning. I've curated 2 nice reads that tie these ideas together (listed below).  You might think about crystals for your grid that represent:
New Moon – New Beginnings – You will use crystals that support retreat, recharge and going within. Adventurine or lepidolite would be my pick.
Waxing crescent – Honor Your Emotions – Set intentions and think of your hopes and dreams. Choose crystals that support the heart because this is where the best life is led from. Rutile is a a fine choice.
1st Quarter – Take Action – Find crystals that represent taking action on challenges and help with decisions. Consider Dumortierte.
Waxing Gibbous – Stay The Course – Choose crystals that help you stay the course and/or support you as you refine or re-evaluate (the Goddess always has a choice and she might love carnelian).
Full Moon – Harvest Time – While you might notice polarities in life during this phase choose crystals  that help you be open to receive. Think about serpentine.
Waning Gibbous – Gratitude Time – Go big on this one! Gratitude is the spice of life – Makes everything more tasty. Boodstone is worth considering.
Last Quarter – Release – What can you release or let go of? What stones will help you forgive? Crystals that clear the electromagnetic field will be good here too. Malachite is fun.
Waning Crescent – Just Be At Peace – Choose that support the surrender of willfulness and help you find deep rest.  Going to recommend smokey Quartz.
Which ever stones you choose, your intentions will amplify the effect. Be sure to touch each stone with your hands, your heart and mind as you place them on the grid. Leave your grid up for the full moon cycle and enjoy the energy!
Resources: 
https://www.elitedaily.com/p/the-8-moon-phases-how-they-affect-your-body-mind-2754760