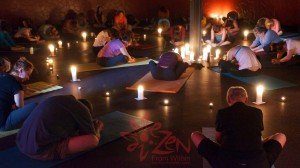 Candle Light Yin Yoga
July 19th @ 8:30pm
"yin yoga is the gateway to meditation."  ~ melita
you've likely heard me say that if you've ever taken a yin yoga class with me.  if you haven't taken a class yet, and are curious, read away!
so what exactly is yin yoga?  i'm glad you asked!  yin yoga consists of seated or lying postures that focus primarily on the connective tissue (tendons, ligaments & fascia) of the body.
what's the difference between "yin" and "yang" yoga?  in traditional chinese medicine (tcm) muscles are considered to be "yang" tissues.  they move, bend, stretch and easily return back to their normal shape.  they are more elastic in nature.  these are your more powerful classes:  vinyasa, ashtanga, power, hot classes, basically any class that has you moving.  whereas "yin" tissues are your connective tissues, which are more plastic in nature.  they take a longer time to release (and when they do release it is very subtle).  this is where yin yoga comes into to your practice and why it is necessary!
what is yin yoga good for?  yin yoga has LOTS of benefits.  too many to list, but here are a few of my favorites:
it's calming to the nervous system
helps to regulate the energy in the body
increases mobility in the body, especially the low back and hips
releases fascia in the body (and it's all about the fascia baby!)
creates a deeper relaxation – aka you sleep like a bebe that night!
helps you cope with stress & anxiety more easily
increases circulation & flexibility
allows you to sit longer for your meditation practice
your yang practice will grow by leaps and bounds because you are working your body in a different way
it's just good medicine!
is there anyone who can't do yin yoga?   my words of caution would be for someone who has just come out of major surgery should avoid yin yoga for at least 4-6 weeks after surgery to be on the safe side.  anyone who has progressed osteoporosis/osteopenia due to the spinal flexion done during class.   and lastly, pregnant women should avoid yin yoga due to the increased hormone called relaxin causes tendons and ligaments to stretch more naturally and we don't want to cause any more stress on these tissues!  if you have questions about your specific needs, please don't hesitate to send an email to [email protected] and we can discuss it further in detail.
if you have any more Qs about yin yoga that need my A, please email me:  [email protected] and i'll be happy to A your Q!