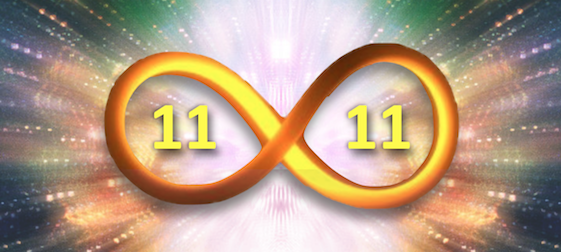 Breathwork Circle – 11:11 Portal
November 11th
6-7:30pm
$35
"In the Universe, there are things that are known and things that are unknown, and in between, there are doors."  ~ William Blake
[button link="https://app.secure-booker.com/Mobile/Bliss?IsClass=1&TreatmentID=2261240&Date=11112016″ size="medium" align="center"] Register in Advance![/button]
11's in numerology represent the most intuitive of all numbers.  It is associated with faith and psychics.  And today,
November 11th
is a double 11 day!!
1111's are representative of a "wake up call" or "code of activation" or an "activating code."  today is a day energetic portal of activation.

This is going to be an amazing day to up the potential on your manifestations.  Today's energy is quick and the Breathwork practice will help you release old baggage that is weighing you down and preventing you from manifesting your dreams.

Melita will be teaching you a technique to help to dramatically quicken your manifesting powers.  This teaching alone is not to be missed!  After the teaching we will move into the Breathwork portion to release blockages that prevent you from manifesting your dreams:  negative thoughts, limiting beliefs, patterns & imprints given to you by your parents or society.  This Breathwork Circle is going to be a game changer!!
[button link="https://app.secure-booker.com/Mobile/Bliss?IsClass=1&TreatmentID=2261240&Date=11112016″ size="medium" align="center"] Sign up online today[/button]
**Breathwork Circles tend to sell out quickly.  Early registration is highly suggested.  Your card will be charged when you register.  Sorry, no refunds.**

Breathwork is an active meditation technique that helps breakthrough any blocks you have around anything that stands in your way of healing.We will start seated in a sacred circle to learn about our energy fields.  Melita will offer essential oils to get your energy centers (chakras) flowing and smudge the room as well as each participant to transform the energy of your emotions to allow deep releasing.

During the Breathwork portion we will be laying comfortably on the floor in nests of comfy blankets. At this time we will release any leftover energy that still remains in our field before we purify and seal it to protect yourself going forward.  Melita will hold space for your healing as she guides you through every step of the way.

If you are ready to take your healing to the next vibrational level and up your manifestation powers, join Melita in this very powerful Breathwork Circle.  Wear comfortable clothing and come as you are.  You do not need to bring anything at all, everything you need is provided for you.  There is no physical yoga practice.  Beginners are always welcome to join the circle!  If you have any questions, please email Melita: [email protected]om

**Breathwork Circles tend to sell out quickly.  Early registration is highly suggested.  Your card will be charged when you register.  Sorry, no refunds.**