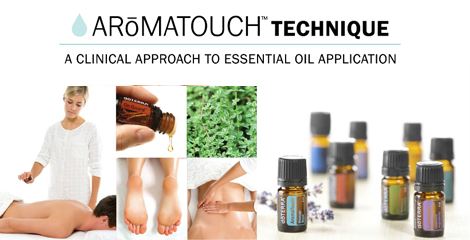 Aroma Touch: A clinical Approach to Essential Oil Application (For Families & Practioners)
What is the ArōmaTouch Technique? dōTERRA's ArōmaTouch Technique is a clinical approach to applying essential oils along energy meridians and visceral contact points of the back and feet to help balance sympathetic and parasympathetic nervous systems of the body. Developed by Dr. David Hill, a leading expert in integrative medicine and therapeutic applications of essential oils, the ArōmaTouch Technique improves well-being by reducing physical and emotional stressors and by supporting healthy autonomic function. The technique is simple and intuitive and uses dōTERRA's CPTG Certified Pure Therapeutic GradeTM essential oils for an unparalleled grounding experience. For more information about the ArōmaTouch Technique visit aromatouch.com.
Who can benefit from ArōmaTouch Technique Training?
• ANYONE!!! From the novice essential oil enthusiast to the professional healthcare practitioner, dōTERRA's ArōmaTouch Technique is EASY to learn and SIMPLE to administer.
• Be empowered in your own home to provide your family and friends with an incredible healing experience.
• Massage therapists, energy workers, healers etc.; ArōmaTouch Technique has much to offer your practice. This simple yet profound treatment offers the same healing power to the practitioner who performs it as it does to the client receiving it.
Certification Cost is $149.00 and Includes: ArōmaTouch Oil Kit, ArōmaTouch Training Guide with DVD, Knowledge Development, Practical Application and Certificate
Time: 10:00 AM – 4:00 PM
Pre-Registration is Mandatory by April 13 – Contact Elizabeth Halliday-Reynolds at 304-685-9942 or [email protected]om
Class Date: Saturday, April 22, 2017
Your experienced instructor is Amy Widmer, a dōTERRA Diamond Wellness Advocate & Certified ArōmaTouch Instructor and can be reached at (304) 904-6621 [email protected]